Root Canals In Aurora, CO - Ammari Dental
Learn More About Root Canals
Root canal treatment — is a set of specialized procedures designed to treat problems of the soft pulp (nerve) tissue inside the tooth. While some mistakenly think of it as an unusually painful treatment, in most cases the procedure is no more uncomfortable than getting a filling. It's actually one of the most effective ways of relieving some kinds of tooth pain.
Causes of Root Canal Problems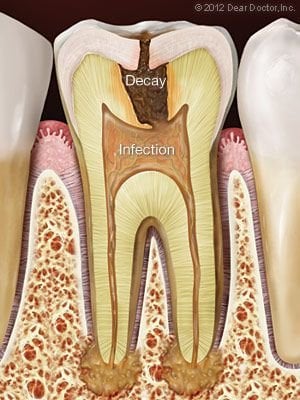 Root canal problems stem from infection and inflammation of the tooth's pulp tissue. One potential cause of infection is deep tooth decay. Untreated dental cavities eventually allow bacteria to work their way down to the center of the tooth, where they may infect the pulp tissue. Another path by which bacteria may come into contact with pulp is via chipped or cracked teeth. Any opening in the protective enamel coating has the potential to allow bacteria access to the tooth's pulp.

Trauma to the tooth — the kind that might result from a sports injury or automobile accident, for example — is also a major cause of pulp tissue damage. In this case, it's essential to seek treatment immediately, both to try and save the tooth, and to prevent future problems.
In some cases, extensive dental work itself may cause damage to the pulp tissue that will need to be treated via a root canal. Having multiple fillings or restorations on the same tooth increases the chances of this type of injury. Occasionally, common procedures like crown preparation or orthodontics may eventually lead to root canal problems.
Root Canal Procedure

Root canal therapy usually entails one to three visits. During the first visit, a small hole is drilled through the top of the tooth and into the inner chamber. Diseased tissue is removed, the inner chamber cleansed and disinfected, and the tiny canals reshaped. The cleansed chamber and canals are filled with an elastic material and medication designed to prevent infection. If necessary, the drilled hole is temporarily filled until a permanent seal is made with a crown. Most patients who have root canal experience little or no discomfort or pain, and enjoy a restored tooth that can last almost as long as its healthy original. At that point, the tooth will be brittle and weak, so a crown is placed over the tooth to prevent cracking or breaking. A temporary crown or filling may be placed first, while a dental laboratory is fabricating the permanent custom crown.
Are you experiencing dental pain or has your dentist told you that you need a root canal? Then call Ammari Dental in Aurora, CO at (303) 283-8009 to schedule your appointment today!